We are
proud

to work with Services
---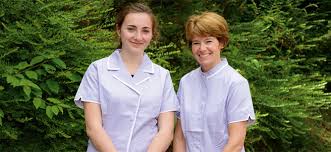 Purple Balm provides experienced support, care and nursing staff to assist people in their own homes. Our services are tailored to your needs. Whatever your or your family's situation, Purple Balm offers a friendly, flexible and reliable service with experienced and superbly trained staff to meet your particular needs.
We appreciate that everyone can benefit from different levels of support at different times in their lives; some on a one-off basis and some more regularly from the occasional hour to 24 hours to live-in. And everyone is different which is why Purple Balm offers you a completely personalised service.
''I just wanted to say thank you very much for the loyalty bonus. I am very grateful!!''

I would like to take this opportunity of informing you, how pleased we are with Francesca who cares for mum daily. Her bright, cheerful manner certainly brings some joy to my mum as her health is deteriorating and I am sure, seeing Francesca every day, certainly has a positive effect on mum. ''Well done Fran''

Sincere thanks for all you have done, and please extend our heartfelt thanks to all of those carers who have been involved in my Mum's care.

I have worked in care for the last eight years and Purple Balm are the friendliest team of staff I've ever met. Even in the initial interview, they made me feel relaxed and comfortable and my rota suits my life perfectly as well as other benefits I haven't had with other companies.

We really do appreciate everything that you and the team have done, it was a difficult situation. You have been an excellent agency and I would happily recommend you.

Very supportive, understanding and helpful

All wonderful staff, extremely supportive and always there regardless how small an issue

I am working as a carer which I enjoy very much and especially enjoy the care when I am with the client for an hour or more or over a period of hours which helps build up a relationship

I have worked here 6+ years and I'm still enjoying it!

I enjoy my one to one working with clients very much. All staff are always very friendly and approachable in office and out in the field

The office staff are really easy to talk to

The Purple Balm carers were very caring and compassionate as well as patient with my family members.

I am very happy with Purple Balm and would recommend you. You are doing a brilliant job.

Thank you for your staff at such short notice - they were fantastic

Very good service and flexible when additional visits are needed

Your support, messages and kindness have been so moving and have helped me to get over my sad loss. I have been really touched by your understanding.

My carer is brilliant, doing as much as possible and knows when I am feeling down all struggling more than usual.